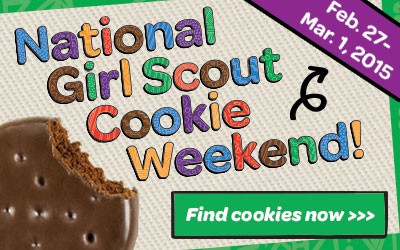 National Girl Scout Cookie Weekend, which has become a national holiday for Girl Scout Cookie fans is Friday, February 27 through March 1. The 2015 Cookie Weekend will mark the 98th year of Girl Scouts selling cookies and learning the important skills for life: goal setting, decision making, money management, people skills, and business ethics.
Continue >
In 2014, over 13,500 boxes of cookies were donated to our U.S. Armed Forces through Operation: APPRECIATION! This year, we're on a mission to donate 20,000 boxes to our military men and women serving our country. Girls can earn a patch while reaching goals and giving back along the way. Now that's sweet!
Continue >
THE GIRL SCOUT COOKIE PROGRAM HAS GONE DIGITAL
Yes, the Girl Scout Cookie Program you know and love is going beyond the booth and offering more ways to buy cookies and support girls' learning than ever before.

And the best part is that Digital Cookie helps take the essential skills girls learn through the traditional cookie program to a whole new level – introducing critical lessons about online marketing and e-commerce to more than one million excited Girl scouts, in real-time. Read more »
26 Feb 2015
More than 1.3 million boxes of cookies have arrived in the local Girl Scout Council of the Southern Appalachians area.