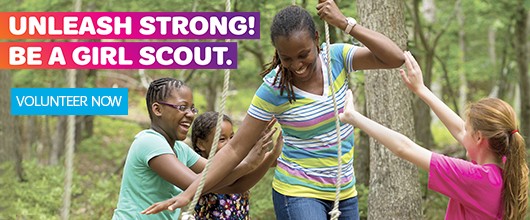 Be the role model she'll always remember.
As a volunteer, you'll introduce girls to new experiences that show them they're capable of more than they ever imagined.
You'll be their cheerleader, guide, and mentor, helping them develop skills and confidence that will last a lifetime. Imagine the smiles, the excitement, the memories made—those are the moments you'll share at Girl Scouts.
Start the fun now!
Did you Know?
Girls don't have to join a troop to join the Girl Scouts movement.
Girls may participate in Girl Scout activities by attending events and special outdoor badge workshops.
You don't have to lead a troop to volunteer for the Girl Scouts.
Leading a troop is usually a long-term commitment, but if you have less time to give, there are other roles for volunteers. The briefest opportunity available is to volunteer at an event, a one-day commitment.  
You don't have to have a daughter to be involved in Girl Scouts.
A lot of volunteers in Girl Scouts are moms and relatives of girls – but a growing number are not. Anyone who wants to help build girls' leadership abilities may apply to volunteer.
You don't have to be a former Girl Scout to volunteer for the organization.
As with any 100-year-old organization, the program has changed over time to meet the needs of girls today. Training is provided on the current mission and program.
Men are absolutely welcome to volunteer!
Girl Scouts requires at least two adults when working with girls, one of which must be a female. The council has men who have spent several years as the leader of their daughter's troop or helped with events. They have enjoyed the opportunity to spend more time with their daughter and gained a better connection to the community.
Girl Scouts is not all about cookies, camping and crafts.
While having fun is a big component, Girl Scouting's focus is on leadership development for girls. Women who were Girl Scouts as children display significantly more positive life outcomes than non-Girl Scout alumnae.