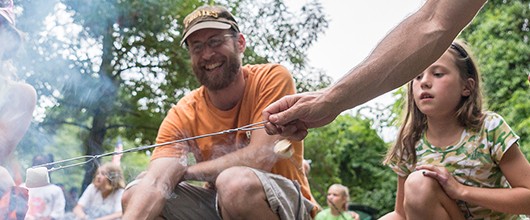 Outdoor Education
Once troops are ready to begin camping outdoors, special training from the Girl Scout council office is necessary. At least one adult must have first aid and CPR training for all outings beyond the usual meeting location. If you plan to take your troop camping, please see the requirements listed below.

First Aid, CPR, and Wilderness First Aid
For any camping trip with an Emergency Medical System response time of less than 30 minutes, at least one approved volunteer must be currently certified in first aid and CPR. For any camping trip or activity site with an EMS response time of more than 30 minutes, at least one approved volunteer must be currently certified in CPR and Wilderness First Aid or Wilderness First Responder.

Outdoor Basics and Camp Policies
Outdoor Basics is an educational and hands-on class that is required to go camping anywhere with a troop, including a volunteer's backyard. One approved volunteer must take this one-time, in-person training PLUS complete the Camp Policies take-home exam. Volunteers can sign up for Outdoor Basics through the Activities page.

The Camp Policies take-home exam must be retaken every three years.
Camp Policies Take Home Exam

Note: If you haven't previously completed this training, you'll be provided a hard copy of this exam when you take the in-person Outdoor Basics training.
If a volunteer has taken a previous GSCSA or legacy council (Moccasin Bend, Tanasi, or Appalachian) camp training any time before September 2015, they do not have to take the Outdoor Basics class but are required to complete the online Camp Policies take-home exam before their next camping trip.


Service Unit Encampments
Plan the best campout in service unit history with this Service Unit Encampment manual! It's filled with helpful information on how to reserve camp, plan activities, manage a budget, sample timelines, checklists, and more!

Safety Activity Checkpoints
When preparing for any activity with girls, always begin with the Safety Activity Checkpoints written specifically for that particular activity. They include key steps to take in advance of the activity.

Outdoor Programs Volunteer
Are you interested in becoming an Outdoor Program volunteer? Be a campground host for the weekend, help with special events at camp, teach outdoor skills or backpacking, assist with a ski trip or whitewater rafting trip, and more. For more information, email us at info@girlscoutcsa.org or give us a call at 800-474-1912.
 

Outdoor Resources
Thanks to a grant from the Elliott Wildlife Values Project, Girl Scouts of the USA created six new outdoor skill-building videos especially for volunteers newer to Girl Scouts and older Girl Scouts as they take younger girls outside.
These videos can help volunteers give girls a sense of empowerment in the outdoors, show them how to use natural resources more wisely (including respecting our environment and wildlife), and help them become lifelong stewards of the land and our natural resources.
Step by Step: Developing Outdoor Skills in Girls
At Girl Scouts, we work to build girls' outdoor skills and inspire girls to care for the environment as they grow. The Girl Scout Outdoor Progression Chart (PDF) is a tool you can use as you advance girls' skills in an age-appropriate way. 
Taking the Journeys Outside
It's easy to take a Girl Scout Journey outside. Each Journey is full of fun, interactive activities that can easily go outdoors and inspire girls to love and protect the planet. Watch this video to find out how!
Planning Your Troop's First Campout 
In order to have a great campout, you need to plan ahead—and be prepared. This video will give you plenty to think about as you plan your next outdoor adventure with Girl Scouts.
Introduction to Campsite Set-Up 
A safe, efficient campsite is important when camping. Watch and learn how to set up a proper camp!
Introduction to Cooking Outdoors
Propane, charcoal, box ovens—there are so many choices when cooking outside. This video shares ideas about the delicious possibilities. Tasty!
How to Leave No Trace Outdoors
A Girl Scout always leaves an area better than she found it. Throughout this video, girls will learn the importance of caring for the land, and how to easily "Leave No Trace" when exploring and enjoying the outdoors.
How the videos can help
Each video includes helpful tips that can be used when planning outdoor adventures. 
Adult- or volunteer-learning departments at councils can use these videos during troop camp certification, grade-level trainings, or with outdoor trainings.
Service units can use these videos when planning camporees and skill-building weekends.
Older girls (program aides, counselors-in-training, or volunteers-in-training) can learn new outdoor skills to use when working with younger girls.
Check your copy of Safety Activity Checkpoints or Volunteer Essentials to keep up to date with safety and risk management guidelines, and take appropriate outdoor training before starting any activity.