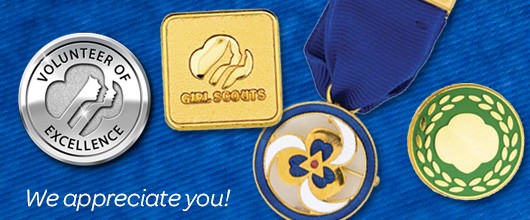 Adult Recognitions
Contributing to a girl's development of courage, confidence, and character is one of the many rewards associated with being a Girl Scout volunteer.
Another is the honor of your contributions being recognized by your peers.
Nominate a fellow volunteer for their outstanding service, and encourage girls and parents to do the same!
Registered adults, service units, or partner agencies can be nominated for a variety of awards, including:
2016 National Awards
Thanks Badge II
Thanks Badge 
Honor Pin
Appreciation Pin
President's Award
Volunteer of Excellence
2016 Council Awards
Meritorious Service Award
The Diversity Celebration Award
Trefoil Award
The Heritage Award
Nominations for service performed during the 2015 or 2016 membership year will be accepted through January 20, 2017. The current nomination form must be used, as the requirements have been updated to reflect the Discover, Connect, Take Action keys. Outdated versions of the nomination form will not be accepted.
Not sure what award would be appropriate? Submit the completed nomination form and the Volunteer Appreciation Task Force will help with award selection.
You may also submit a photo with the nomination form, which may be used for recognition purposes.
Supporting documentation will be accepted from both adults and girls in a variety of formats – including video.