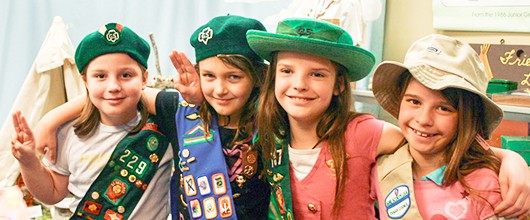 GS Museum
Welcome To Daisy's Place Program Center
The Daisy's Place Program Center is located in the Girl Scout Council of the Southern Appalachians Service Center in Knoxville and is open for browsing during regular service center business hours. Typical hours are Monday, Tuesday, Thursday, and Friday 10:00 - 6:00. Closed Wednesdays. Open the first Saturday of every month from 10:00 - 2:00. Guided tours can be arranged by submitting a tour request form two weeks in advance. Tours with vintage uniform try-ons need a list of girls with their dress sizes AND waist sizes, so the correct size uniforms will be ready. Admission is free.                
The Daisy's Place Program Center includes:
The Girl Scout Museum at Daisy's Place
The Jerry Warwick Archival Library
A Vintage Uniform Collection
A Lending library of sewing machines, as well as a variety of programs organized in "Wheelies." Each Wheelie offers a taste of activities that you and your troop will find to be fun and educational.

The Girl Scout Museum

Hands-on Exhibits
Girls, friends, and parents are welcome to browse the hands-on exhibits and displays of unique Girl Scout memorabilia. Check out our fun exhibits of Girl Scout history, games, and activities. Guided tours and vintage uniform try-on sessions are available by advance reservation. (Please call at least two weeks in advance.)
When visiting Daisy's Place Museum, many authentic vintage Girl Scout clothing and camping items are on display in this exhibit. It's fun to see Girl Scout camping styles of days gone by.
Archival Library
You can also see a portion of the Archival Library, which holds many historical Girl Scout-related publications on camping, singing, crafts, and other activities. Girls and adults may browse those publications for ideas for troop projects and more. We ask only that you sign our visitor log. Photocopies of archival materials are allowed, but the actual materials do not circulate.
SWAPS
You're welcome to choose from the SWAPS (Small Whatchamacallits Affectionately Pinned Somewhere) in a museum basket, and we hope you'll bring some SWAPS to add! SWAPS are inexpensive little pins or gifts traded among Girl Scouts from different places to show where they are from – or who they are. Be sure to attach a pin and put your troop number and city on your SWAPS. Have fun!
Smithsonian Doll – Mabel Pain
The famous Mabel Pain doll was part of an exhibit in the Smithsonian Museums in Washington, D.C., and is now on permanent loan at the museum by Frances VanWinkle. The doll's unique story is documented in a the book, The Girl Scout Triumph, which is also on display. The real-life Mabel Pain was an orphan who, as a toddler, was cared for by a Girl Scout troop. She was passed from family to family in the troop for a week at a time. The troop leader (Mrs. Mabel Pain) fell in love with the orphan, adopted her, and named her Mabel.
The doll is dressed in the first khaki camp uniform (1914) which was hand-sewn by Mrs. Pain, with insignia painted by Mr. Pain who was an artist and worked with Scotland Yard in England. He was sent to the United States to work in the War Department in World War I. Mrs. Mabel Pain was an English friend of Lady Baden-Powell and Juliette Low. She was very active in Girl Scouts in Washington, D.C., and helped Juliette Low establish Girl Scouting on a sound footing.
In the early 1900s, Mrs. Pain gave the doll to her friend Elsie Jachowski who was living in Washington, D.C., and was the mother of Frances Van Winkle of Knoxville, Tennessee. We thank Mrs. Van Winkle for being a supporter of Daisy's Place from the beginning and for sharing this very special doll.
Visitors may purchase museum patches commemorating their museum tour at the Girl Scout Shop
Be sure to sign the guest book on your way out and leave a comment. We are looking forward to seeing you!

Jerry Warwick Archival Library
Need a hand with a troop meeting? Explore our archival library collection for ideas. Keep your troop meetings interesting year-round with ideas of songs, games, and crafts. Want to hold a special ceremony? Browse our collection for ideas and sample ceremonies. You'll love what you find. The archival library also allows access to vintage Girl Scout handbooks,  nature guides, scrapbooks, and newsletters dating back to 1912.
Museum Volunteers of all Ages
Volunteers operate our museum! We encourage you to consider being part of the team. Troops are invited to contact us about making a display and individual adults of every age are needed and appreciated. Can you assist with typing, record keeping or putting a display in place? Would you be willing to teach a small group of leaders how to use our sewing machines? Short term and continuing helpers are wanted.
Museum Forms

Call 1-800-474-1912 for more information about visiting the museum or becoming a museum volunteer.