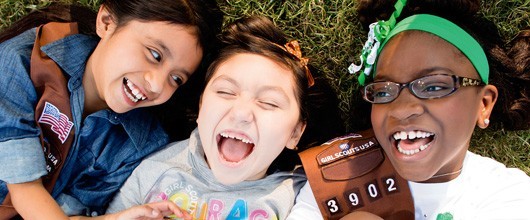 Shop
Shop Hours:
New Hours for Shops and Customer Care Desks
effective October 1, 2014.
• New hours: 10 am - 6 pm
• Open Monday, Tuesday, Thursday and Friday*
• Closed on Wednesdays
• Shops open the first Saturday of every month from 10 am - 2 pm
*except for holidays or other scheduled closings
Join the Council Food Drive and Get a Free Patch
Girls, here's a great opportunity to help others! Just bring three nonperishable food items to your local council shop in Johnson City, Chattanooga, or Knoxville to get a FREE food drive patch. Drop donations off during regular business hours November 24 through December 17. The council will divide donations between various food banks within the region.
If your troop will be making one giant donation, please let the council know ahead of time. We want to be sure to have enough patches for everybody!
Patches may be purchased for $1.50 if the three item requirement is not met.
All offices will be closed on these holidays:
May 26, 2014 Memorial Day
June 30-July 4, 2014 Summer Break
September 1, 2014 Labor Day
November 27-28, 2014 Thanksgiving Weekend
December 24-January 1, 2015 Winter Break