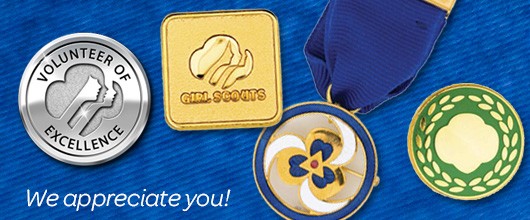 Recognitions
Even though watching girls grow into women of courage, confidence and character is its own reward, Girl Scouts offers awards to volunteers that are given based on nominations received.
Now is the time to nominate volunteers for awards that honor their service during that membership year.
Nominate a fellow volunteer for their outstanding service and encourage girls and parents to do the same! Registered adults, service units, or partner agencies can be nominated for a variety of awards.
2014 National Awards
Thanks Badge II
Thanks Badge
Honor Pin
Appreciation Pin
President's Award
Volunteer of Excellence
2014 Council Awards
Meritorious Service Award
The Diversity Celebration Award
Trefoil Award
The Heritage Award
Award nominations for service performed during the 2014 membership year will be accepted through January 16, 2015. The nomination form must be used to make a nomination for an award. Not sure what award would be appropriate? Send the form and information about the nominee. The Volunteer Appreciation Task Force will help with the award selection this year.
Nominations may be sent in along with a photograph which may be shown at a spring recognition ceremony. Also, there are several new options for supporting a nomination – letters of endorsement may still be submitted, but we also encourage new methods such as video nominations to give girls the opportunity to recognize their leaders in an exciting way!
Please do not submit forms from previous years. Award requirements changed in 2011. Award nominations and forms from previous years will not be accepted. Follow the instructions listed with the nomination form found at the link below.