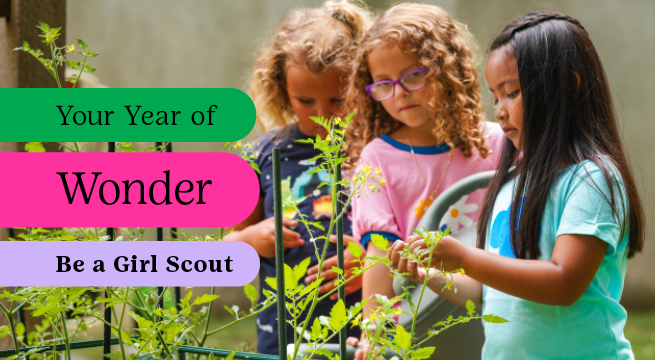 Already a member? Log in to renew.
When you unleash her inner G. I. R. L., she can accomplish anything!
At Girl Scouts, the next opportunity to stand up, speak up, and take the lead is never far away. With us, you'll discover the G.I.R.L. (Go-getter, Innovator, Risk-taker, Leader)™ in you, and watch her shine, again and again.
Will she find a sustainable solution to a problem in your community? Will she explore the great outdoors? Build a robot? Learn to code?
With us, the possibilities are truly endless.

Already a member? Log in to renew.
Special Promotional Price!
When you register your girl for Girl Scouts this spring and summer, you can take advantage of our unbeatable extended year girl membership offer for new Girl Scouts starting May 1. That's nearly 17 months of membership versus 12 for one, low promotional price—sweet!
ALSO, girls who join during between May 1 – June 30 will receive:
A free patch
A free day at camp for her and one adult
So what are you waiting for? JOIN NOW!
*Extended Year Girl Membership Information
Day Camp Details
Includes s'mores station, craft, songs and games, hiking, and nature scavenger hunt.


Event admission complimentary to girls and volunteers registered by the incentive deadline only


Attendees may bring their own picnic lunches


Adahi & Tanasi only – pools will be open for swimming


Wildwood only – Archery will be open


Select days only:
July 21: Camp Adahi
July 28: Camp Tanasi
August 4: Camp Wildwood

For questions or more information, call us at 1-800- 474-1912 or email info@girlscoutcsa.org.