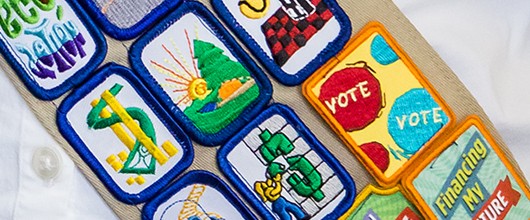 Council Patch Programs
In Girl Scouts, girls develop courage, character and self-esteem. Through council patch programs, Girl Scouts follow requirements that link them with local organizations and resources, helping them develop a lasting sense of responsibility and accountability to their communities.
The council patch programs are currently being reevaluated.
Please check back for new patch programs soon.
Bullying: Take Control (all ages).
Leave only Footprints (all ages).
Explore Jonesborough Patch: Visit and Explore Jonesborough - the oldest town in Tennessee!
The Explore Jonesborough patch program is a fun and hands-on experience in history, culture, arts, and more. Go back to the 19th century with a visit an old-fashioned schoolhouse, listen to nationally-known storytellers, or take a tour of the town with a fun character guide! You will Discover, Connect and Take Action your way through this Storytelling Capital of the World.
Download and print the patch requirements complete the requirements for your grade level at your own pace, and then visit a Council Shop to purchase your patch.
Located in northeast Tennessee, Jonesborough makes a great weekend trip, maybe even with an overnight stay at nearby Camp Wildwood.

Our Girl Scout Story Patch: This patch program was developed by the museum volunteers to help girls understand the first century of Girl Scouting. It uses a "wheelie" filled with materials for earning the patch at all levels.

Download a PDF of Daisy requirements.

Download a PDF of Brownie requirements.

Download a PDF of Junior requirements.


Secret City Heritage Patch: This new patch program was developed by the museum volunteers for Brownies and older. It uses a packet of materials available for check-out from local service center shops. The packet includes a board game and card game (to reinforce learning in a fun way) as well as other information. It is a "travel opportunity" patch.