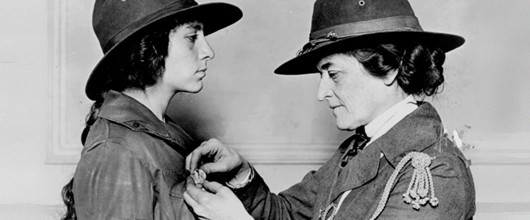 Gold Award
The Girl Scout Gold Award is the highest award a Girl Scout can earn. Once achieved, it shows colleges, employers, and your community that you're out there changing the world.
Join a century of women who have done big things. Learn about scholarships for Gold Award Girl Scouts, the history of the Gold Award, and the benefits of going Gold. 
You can pursue your Girl Scout Gold Award if:

You're in high school (ninth through twelfth grade, or equivalent)

You're registered as a Girl Scout Senior or Girl Scout Ambassador

You have completed two Senior or Ambassador Journeys OR earned the Girl Scout Silver Award and completed a Journey
Girl Scout Gold Award Steps


Investigate your issue thoroughly
 
Get help and build your team
 


Present your plan and gather feedback 
 

The Benefits of Going Gold
Girl Scout Gold Award recipients do well in life! They rate their general success significantly higher than their peers and report greater success in reaching their goals in many areas.
Higher education and career 

Distinguish yourself in the college admissions process
Earn college scholarships
Enter the military one rank higher

Life skills 

Be seen as a role model and distinguished leader
Master time management skills
Make the world a better place

Community 

Use your vision for change
Tackle an issue, locally or globally
Establish a lifetime network
Create your community legacy with a sustainable solution to a problem

Adult Guide: Girl Scout Gold Award