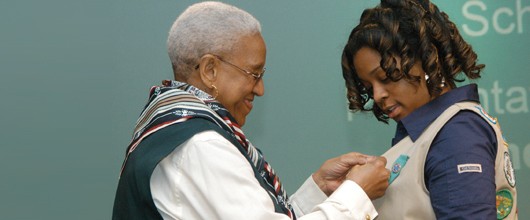 Leadership and Scholarship Grants
Scholarships for Gold Award Recipients
The Girl Scout Council of the Southern Appalachians is proud to offer 10 scholarships for graduating Ambassador Girl Scouts.
Available Scholarships:
Girl Scout Council of the Southern Appalachians Scholarships – Eight $500 scholarships recognizing overall achievement.
The Katy B. Hill Scholarship – One $750 scholarship recognizing the highest academic achiever among applicants.
The Mary Bob Clinton Scholarship – One $750 scholarship recognizing the highest service achievement among applicants.
This year's application coming soon.
Money is Available to help Girls with Service Projects
Cadettes and older girls may apply for grant money when they plan (or their troop plans) a service project. It does not have to be a Gold or Silver project, but it can be for Gold or Silver projects. Girls- not adults- must take the lead.
Applications are now being accepted. Up to 8 awards will be given per year.
Get an application packet.
Download final report form. 
See an overview of the program.
For more information, please contact GSCSA's Amanda Meade ameade@girlscoutcsa.org or the volunteer co-chairs of the Leadership Grant Program:
Patty Cook 865-481-3099
Gail Yook 865-408-2591
This grant is funded by donations honoring long-time volunteer Joyce Maienschein's legacy in Girl Scouts.

Teen Travel Grant
We have some amazing council-sponsored trips and destinations coming up and want as many of our girls to enjoy these adventures as possible. To that end, we are now offering you the option to apply for grants of up to $500 to offset the costs of travel. These grants are available for all registered Cadette, Senior and Ambassador Girl Scouts, both individually registered and registered in a troop. Eligible girls may use this grant once per year. Applications need to be sent in by November 15 or March 15 of each year to be considered.
To apply, please send the completed form to Melissa Trimble at the Knoxville Service Center. Email and mailing address info can be found in the PDF. It is important that you read the directions in the application thoroughly and to be sure your application is complete and sent into Melissa by the deadline.
Of course, you can call us any time at 1.800.474.1912 or contact Melissa Trimble directly with any questions!