Girl Scout Volunteers:
A BIG, Heartfelt Thank You
for All You Do!

Girls from all over give very special thank yous to the rock star Girl Scout volunteers in their lives. Volunteers give of their time and hearts to provide the girls with awesome new experiences, big fun and tons of confidence to take on the world!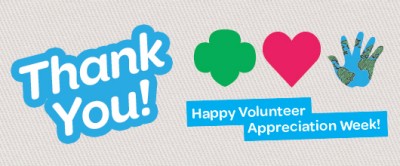 Download this cool shareable card! Email it or print it out, and give it to your favorite Girl Scout volunteer with a hug during Volunteer Appreciation week in April! And show them a little extra appreciation with shout-outs on Facebook and Twitter. Don't forget to tag @girlscouts and use the hashtag #NVW15!
Continue >
GO WILD THIS SUMMER AT CAMP!
Have your best summer ever! Explore all the adventures awaiting at summer camp. From spending time on the water, to archery, to cupcake decorating, girls choose their fun. Browse all our programs and activities and register today.

Great news! We have extended the deadline for girls to apply for resident camp financial aid. Girls can now apply until that program's registration deadline.

'Super' girls at the White House
09 Apr 2015
In case you missed it, President Obama was very impressed by some Daisy "supergirls" at the annual White House Science Fair. Check out a video from Mashable and some the media coverage on the Girl Scouts of the USA blog.
03 Apr 2015
Camperships (camp scholarships) are available for girls with documented financial need. The deadline for camperships has been extended.
News in a Minute: Cookie Sale Ends March 29
19 Mar 2015
Girl Scouts are working hard to sell cookies. Not only are they learning skills, they're earning big rewards like an invitation to gigantic parties and cookie dough to help pay for summer camp!