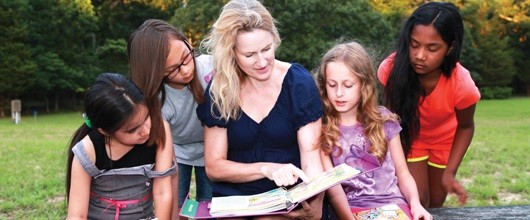 Volunteer Resources
To ensure you have everything you need to be successful in your role, the following resources are available to our volunteers.
Use this navigation to go straight to the information you're looking for!
Guides
Handbooks and Documents
Tip Sheets
Training
Troop Banking Resources
Webinars

Guides
New Troop Checklist: How does your troop spell "success?" Use this simple checklist to make sure the troop is meeting deadlines (and mixing in fun along the way!).
Parent Meeting Planning Guide: Whether your troop is new or returning, use this worksheet to plan a successful meeting with parents and caregivers of girls in the troop.
Planning Your Girl Scout Year: If you and the girls don't want to miss out on any of the fun that Girl Scouts has to offer throughout the year, use this checklist to see what's coming around the bend (and ask the girls what they would like to add to their to-do list!).
Handbooks and Documents 
Blue Book of Basic Documents: This publication contains all of the basic documents of Girl Scouts of the United States of America.  It is the foundation for the work of all Girl Scout councils. Available online or in print by request.
Encampment Manual: Plan the best campout in Service Unit history! It's filled with helpful information on how to reserve camp, plan activities, manage a budget, sample timelines, checklists, and more!
Girl Scouts University: An online resource for volunteers created by Girl Scouts of the United States. Contains trainings, blogs, and more.
Safety Activity Checkpoints: Safety checkpoints tailored for each activity girls might participate in. Available online and on the Volunteer Resource Guide disc.
Service Unit Basics: This is a helpful manual for anyone holding a volunteer role in their service unit.
Volunteer Essentials: Volunteer Essentials is a national resource, customized by each council. At GSCSA, it is the final step in any volunteer certification process. The home study is available online and on the Volunteer Resource Guide disc.
Volunteer Handbook: Read our council's volunteer policies and expectations, as well as detailed volunteer position descriptions.
Tip Sheets
Adult Behavior: This tip sheet will equip you to deal with difficult behavior, and manage conflict in the best interest of the girls. 
Attention-Getters: Encourage girls to listen in creative and fun ways.
Ceremonies: Learn all about Girl Scouts' rich history of traditional ceremonies, and how to incorporate them.
Games: Games can be used for breaking the ice, developing teamwork, learning or reinforcing skills, building stamina, and much more!
Girl Behavior: Get equipped to set up an environment that encourages positive girl behavior and communication.
Girl led: This tip sheet introduces you to some practical ways to foster a successful, girl-led troop environment.
Grade Levels: Learn how to understand and best serve every Girl Scout, based on her particular grade level.
High Awards: Make sure to be familiar with the steps required to earn the Bronze, Silver, and Gold Awards.
Inclusion: Here's how to make sure your troop is a safe place for girls of all abilities and background.
Learning by Doing: Girls learn best when they can try new things and make mistakes, so let them!
Mentor Awards: Check out the steps of these awards, which encourage Girl Scouts to work with and mentor younger girls.
Multi-Level Group: Get some tips on how to overcome common challenges associated with having a troop made up of more than one grade level.
Poverty: Be informed about how to carry out the Girl Scout mission and serve girls where they are.
Reflection: Reflection is an important part of the troop experience, for both girls and adults, and these activities will help make reflection more meaningful.
Saying Thank You: Make sure to recognize your fellow Girl Scout volunteers!
Start a Troop: Updated to reflect new processes for the 2016 membership year.
Songs: Get some quick tips on how to lead a successful Girl Scout singalong, and where to find good songs!
Training 
Troop Team training: Each role in the Troop Team has specific training, which you can complete online! If you're going to be a Girl Program Mentor or Troop Administrator, make sure to register for an additional in-person training in the Activities section.
Outdoor Basics training: Outdoor Basics is an in-person class that's required to go camping anywhere with a troop. One approved volunteer must take this one-time training AND complete the Camp Policies take-home exam. Register in the Activities section.
Registration tip: You can select Advanced Search and filter the listings by type of event, training, or program.
Webinars
The Be Prepared webinar series covers topics throughout the year that there simply isn't time to cover in new volunteer training. To view past webinars, click on the play button and then enter your name and email.
If you have ideas for future webinar topics, email them to info@girlscoutcsa.org or your local Troop Coordinator/Specialist.

Topics covered: troop financial worksheet, troop banking, cookie program


View this recorded webinar.
Troop Financial Worksheets are due every June 15 and December 15 to ensure all Girl Scout money is present and accounted for. The first part of this webinar gives a complete walkthrough of the worksheet and other banking forms. The second part of the webinar gives an overview of a Girl Scout Cookie season, and provides dates relevant to the 2016 cookie program.
Originally recorded December 2015
Topics covered: volunteer awards, summer camp


View this recorded webinar.
Learn all about our annual awards for adult volunteers, and how to nominate a fellow volunteer. There's also information specific to 2016 Summer Resident Camp and the 2016 Girl Scout Cookie Program. Volunteer award information begins at the 18:00 mark.
Originally recorded January 2016
Topics covered: Volunteer Toolkit, World Thinking Day


View this recorded webinar.
Get a complete walkthrough of the Volunteer Toolkit and all its features – including making a year plan. Also covered is 2016 World Thinking Day.
Originally recorded February 2016
Topics covered: High Awards, travel


View this recorded webinar.
Learn about the opportunities for girls to earn the Highest Awards in Girl Scouting: the Bronze, Silver, and Gold. This webinar also covers upcoming travel opportunities in our council and the world. This is a great resource for volunteers for all troop levels, particularly Brownies and up.
Originally recorded March 2016
Topics covered: troop renewal, Early Bird


View this recorded webinar
Learn all about our Early Bird early membership renewal campaign, and why it pays to renew early! We also walk you through the online troop renewal process.
Originally recorded May 2016