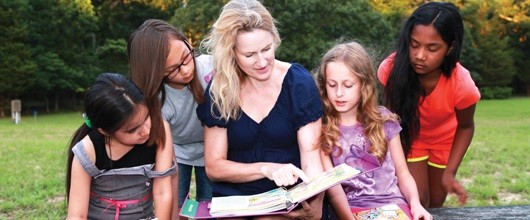 Volunteer Resources
To ensure you have everything you need to be successful in your role, the following resources are available to our volunteers.
Use this navigation to go straight to the information you're looking for:
Documents, Guides, and Handbooks
Tip Sheets
Training
Troop Finances
Webinars
Need to contact the council? Find who you're looking for in the staff directory.

Documents, Guides, and Handbooks
Blue Book of Basic Documents: This publication contains all of the basic documents of Girl Scouts of the United States of America.  It is the foundation for the work of all Girl Scout councils. Available online or in print by request.
Encampment Manual: Plan the best campout in service unit history! It's filled with helpful information on how to reserve camp, plan activities, manage a budget, sample timelines, checklists, and more! Updated February 2017.
Girl Scouts University: An online resource for volunteers created by GSUSA. Contains trainings, blogs, and more.
Safety Activity Checkpoints: Safety checkpoints tailored for each activity girls might participate in. Updated for 2016.
Service Unit Basics: This is a helpful manual for anyone holding a volunteer role in their service unit.
Volunteer Essentials: Volunteer Essentials is a national resource, customized by each council.
Volunteer Handbook: Read our council's volunteer policies and expectations, as well as detailed volunteer position descriptions.
Tip Sheets
Updated for 2016-17
Attention-Getters: Encourage girls to listen in creative and fun ways.
Girl Led: This tip sheet introduces you to some practical ways to foster a successful, girl-led troop environment.
Learning by Doing: Girls learn best when they can try new things and make mistakes, so let them!
Planning trips: Partner with girls to plan exciting outings, near and far!
Product Sales: Learn what you need to do to be prepared (and when) for the Girl Scout Fall Product Program and Cookie Program.
Reflection: Reflection is an important part of the troop experience, for both girls and adults, and these activities will help make reflection more meaningful.
Songs: Get some quick tips on how to lead a successful Girl Scout singalong, and where to find good songs! 
Training 
Troop Team training: Each role in the Troop Team has specific training, which you can complete online! If you're going to be a Girl Program Mentor or Troop Administrator, make sure to register for an additional in-person training in the Activities section.
Outdoor Basics training: Outdoor Basics is an in-person class that's required to go camping anywhere with a troop. One approved volunteer must take this one-time training AND complete the Camp Policies take-home exam. Register in the Activities section.
Registration tip: You can select Advanced Search and filter the listings by type of event, training, or program.
Troop Finances
Troop Banking
Bank Account Information
Volunteer Financial Agreement
New this year: a page dedicated to all things troop banking!
Troop Fund Development
Troops and service units may now participate in the following fundraising events without informing the council:
Bake sales
Pancake breakfasts, spaghetti suppers, or other meals
Car washes
Yard/garage sales
The council must be informed about any other money-earning events other than those listed above through the Money-Earning Application. We ask that this be completed 30 days prior to the event, when possible. This allows us to be sure that we are following GSUSA guidelines and IRS guidelines and standards. Plus, we're eager to see your success in money-earning events.
Troops may not solicit a business with 50 or more employees for monetary donations. Troops may, however, solicit any business regardless of size for in-kind donations, including gift cards.
Troops may receive up to $250 in sponsorships annually. Service units may now receive up to $500 in sponsorships annually.
Webinars
The Be Prepared webinar series covers topics throughout the year that there simply isn't time to cover in new volunteer training. To view past webinars, click on the play button and then enter your name and email.
If you have ideas for future webinar topics, email them to info@girlscoutcsa.org or your local experience manager

Topics covered: troop financial worksheet, troop banking, cookie program


View this recorded webinar.
Troop Financial Worksheets are due every June 15 and December 15 to ensure all Girl Scout money is present and accounted for. The first part of this webinar gives a complete walkthrough of the worksheet and other banking forms. The second part of the webinar gives an overview of a Girl Scout Cookie season, and provides dates relevant to the 2016 cookie program.
Originally recorded December 2015
Topics covered: volunteer awards, summer camp


View this recorded webinar.
Learn all about our annual awards for adult volunteers, and how to nominate a fellow volunteer. There's also information specific to 2016 Summer Resident Camp and the 2016 Girl Scout Cookie Program. Volunteer award information begins at the 18:00 mark.
Originally recorded January 2016
Topics covered: Volunteer Toolkit, World Thinking Day


View this recorded webinar.
Get a complete walkthrough of the Volunteer Toolkit and all its features – including making a year plan. Also covered is 2016 World Thinking Day.
Originally recorded February 2016
Topics covered: High Awards, travel


View this recorded webinar.
Learn about the opportunities for girls to earn the Highest Awards in Girl Scouting: the Bronze, Silver, and Gold. This webinar also covers upcoming travel opportunities in our council and the world. This is a great resource for volunteers for all troop levels, particularly Brownies and up.
Originally recorded March 2016
Topics covered: troop renewal, Early Bird


View this recorded webinar
Learn all about our Early Bird early membership renewal campaign, and why it pays to renew early! We also walk you through the online troop renewal process.
Originally recorded May 2016