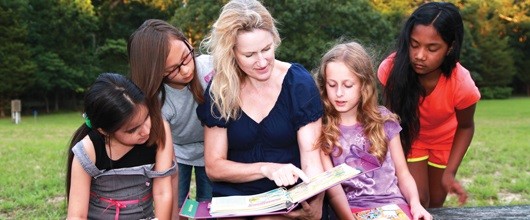 Volunteer Resources
To ensure you have everything you need to be successful in your role, the following resources are available to our volunteers.
Register for a Volunteer Training >
Helpful tip: to filter the calendar to show only Volunteer Trainings, tap Advanced Search and select Volunteer Training under category. You may view only trainings in your area by selecting your region in the drop down list.
Read a summary of the updated policies and forms for 2015 >
Troop Team Member Resources
Troup Teams Manual: A companion to each online training for volunteers in Troop Team roles.
Troop Administrator Workshop Guide: A companion to the in-person Let's Go! Troop Administrator Workshop session.
Girl Program Mentor Workshop Guide: A companion to the in-person Jump In! Girl Program Mentor Workshop session.

Troop Meeting Resources
New this year, resources to make meeting with girls and adults throughout the year a breeze!
Parent Meeting Planning Guide: Whether your troop is new or returning, use this worksheet to plan a successful meeting with parents and caregivers of girls in the troop.
New Troop Checklist: How does your troop spell "success?" Use this simple checklist to make sure the troop is meeting deadlines (and mixing in fun along the way!) change boxes
Planning Your Girl Scout Year: If you and the girls don't want to miss out on any of the fun that Girl Scouts has to offer throughout the year, use this checklist to see what's coming around the bend (and ask the girls what they would like to add to their to-do list!) change boxes
Troop Banking Resources
All Volunteers
Blue Book of Basic Documents: This publication contains all of the basic documents of Girl Scouts of the United States of America.  It is the foundation for the work of all Girl Scout councils. Available online or in print by request.
Safety Activity Checkpoints: Safety checkpoints tailored for each activity girls might participate in. Available online and on the Volunteer Resource Guide disc.
Volunteer Essentials: Volunteer Essentials is a national resource, customized by each council. At GSCSA, it is the final step in any volunteer certification process. The home study is available online and on the Volunteer Resource Guide disc.
Outdoor Basics: Outdoor Basics is a class that is required to go camping anywhere with a troop. One approved volunteer must take this one-time, in-person training PLUS complete the Camp Policies take-home exam. Volunteers can sign up for Outdoor Basics through eBiz.
Encampment Manual: Plan the best campout in Service Unit history! It's filled with helpful information on how to reserve camp, plan activities, manage a budget, sample timelines, checklists, and more!
Girl Scouts University: An online resource for volunteers created by Girl Scouts of the United States. Contains trainings, blogs, and more.
Service Unit

Tip Sheets
New this year:
Attention-Getters: Encourage girls to listen in creative and fun ways.
Girl-led: The most successful troops are troops that are girl led. This tip sheet introduces you to some practical ways to foster that environment.
Learning by Doing: Girls learn best when they can try new things and make mistakes, so let them!
Reflection: Reflection is an important part of the troop experience, for both girls and adults. This tip sheet and worksheet will help make reflection more meaningful.
Start a Troop: Updated to reflect new processes for the 2016 membership year.