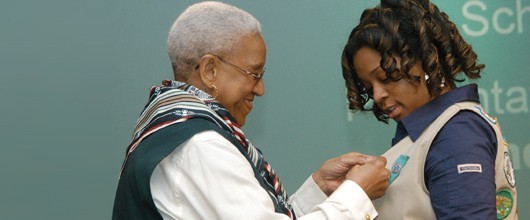 Scholarships and Grants
Each year, the GSCSA Board of Directors allocates funds for scholarships for girls who have earned their Girl Scout Gold Award. Applications for the 2023 cycle are now open and the new application packet has been made available. 
Who can apply?
Be a Gold Award recipient (meeting the council deadline of February 1, 2023 or before) AND 
Be a current Ambassador-level Girl Scout member of our council who is graduating high school by August 2023. (We are unfortunately unable to offer this funding to Gold Award recipients who have already
graduated from high school).
How to apply? 
Submit your completed application packet to:
Girl Scout Council of the Southern Appalachians
Attn: Gold Award Scholarships
1567 Downtown West Blvd.
Knoxville, TN. 37919
Or, email your  completed application packet with all supporting documents to info@girlscoutcsa.org.
Applications for the 2023 cycle opened on December 9, 2022.
Applications will remain open until February 1, 2023 at 5:00pm.
Applications must be in hand in our office by this time. No applications are accepted past this deadline. (This includes postmarked mail.) 
Joyce Maienschein Leadership Grant
Joyce Maienschein began volunteering with Oak Ridge Girl Scouts in 1957, and by 1965 she was leading Troop 69. "Ms. M's" leadership was unique and nationally recognized. She encouraged Troop 69 to apply for and use grant funds to lead important projects and gain leadership skills.
Under Ms. M's leadership, Troop 69 created and implemented numerous impactful service projects, several of which still exist in some form. Additionally, Troop 69 was the only American troop to ever receive the International Walter Donald Ross Award, given to "the most outstanding troop in the World Association of Girl Guides and Girl Scouts."
In 1978, Maienschein was awarded the Juliette Low World Friendship Medal by GSUSA in recognition of her outstanding efforts to extend opportunities for international understanding through Girl Scouting. In 1994, she founded the Girl Scout Museum at Daisy's Place and directed it until moving to Arizona in 2009. The museum remains a vital part of GSCSA. This grant is funded by donations honoring long-time volunteer Joyce Maienschein's legacy in Girl Scouts.
Who can apply? Cadette, Senior, and Ambassador girls or troops who are working on Take Action projects, Silver Award projects, or Gold Award projects.
How to apply?
Application Packet
Final Report

For more information, please contact us at info@girlscoutcsa.org or the volunteer co-chairs, Patty Cook (865-659-4486) and Gail Yook (865-408-2591).